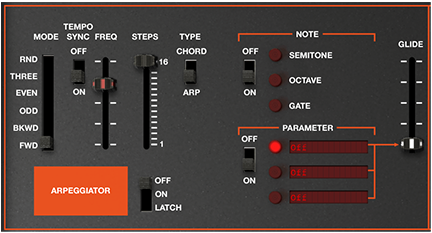 MODE switch
Specifies how steps advance when the arpeggiator plays.
RND : Steps are played randomly.
THREE : Every third step is played.
EVEN : Even-numbered steps are played.
ODD : Odd-numbered steps are played.
BKWD : Advance from right to left.
FWD : Advance from left to right.

TEMPO SYNC switch
Turn this on/off to specify whether the LFO is synchronized to tempo (MIDI clock).

FREQ
Specifies the playback speed. If the TEMPO SYNC switch is ON, this slider specifies the interval of the tempo that is synchronized to MIDI clock.

STEPS
Specifies the number of steps to loop.

TYPE switch
Specifies whether each step will play single notes or chords.
CHORD : The notes of multiple keys that you press are sounded as a chord at each step.
ARP : The keys that you press are sounded as an arpeggio.

ARPEGGIATOR switch
Switches the arpeggiator on/off. If you select LATCH, the arpeggiator continues playing even after note-off.

NOTE switch
Switches to the channel that will control the pitch or some other aspect of the sound.
SEMITONE : Controls the pitch.
OCTAVE : Controls the pitch in one-octave units.
GATE : Controls the duration of notes.

PARAMETER switch
Assigns parameters to three channels to control the selected parameter.

GLIDE
Specifies the transition time for the effect assigned by the PARAMETER switch.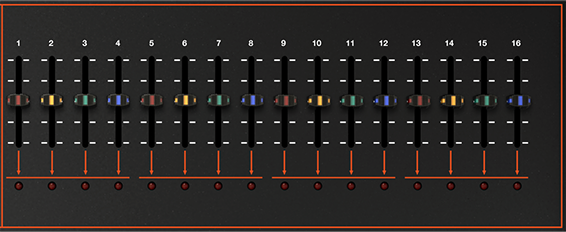 Step sliders 1–16
Specify the value of each step.